/
Products / Diphoterine® / Wall-mounted station /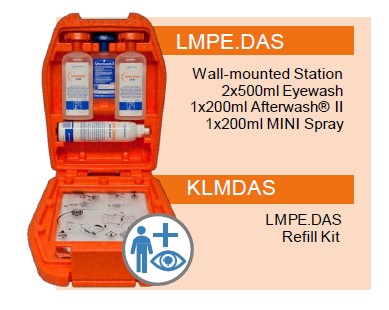 Wall-mounted station
How should a chemical accident involving several parts of the human body, including the eyes, be managed?
The Diphoterine® wall-mounted station is designed to rinse and cleanse of a person splashed with a chemical. It contains two 500 ml bottles (LPMD) for eyewash, a 200 ml MINI DAP for small skin splashes and a LOA After wash to restore comfort to eyes rinsed with Diphoterine® solution. Its orange colour allows this station to be quickly identified and makes it visible in risky areas of a factory.
How does it work?
The physical and chemical properties of Diphoterine® solution allow mobile packaging for rinsing in the event of chemical splash on humans in any situation.
Four characteristics give it its activity on chemical splashes:
Diphoterine® solution is versatile
Diphoterine® solution is liquid
Diphoterine® solution limits the chemical's penetration
Diphoterine® solution stops the chemical's aggressiveness
Properties
• Wall-mounted
• Contains:
o Two 500 ml bottles (LPMD) of Diphoterine® solution intended for eye rinsing
o One 200 ml MINI DAP of Diphoterine® solution to decontaminate small splashes to the skin (equivalent to …) face or arm)
o One bottle of Afterwash II® solution: isotonic solution to be used after rinsing with DIPHO-HEXA solution to return to physiological osmotic pressure or for rinsing in the event of a non-chemical foreign body
• Fixed and easily identifiable
• Sterile
• Class 2A medical device
• Complies with standard EN 15154-3 and EN 15154-4
• CE marking compliance
• Available in heated and stainless steel version
• Replenishment kits available
Download all documents on this subject